Gallery News
for exhibition openings and closings, events and auctions,
sign-up for the essential GalleriesNow weekly Newsletter
here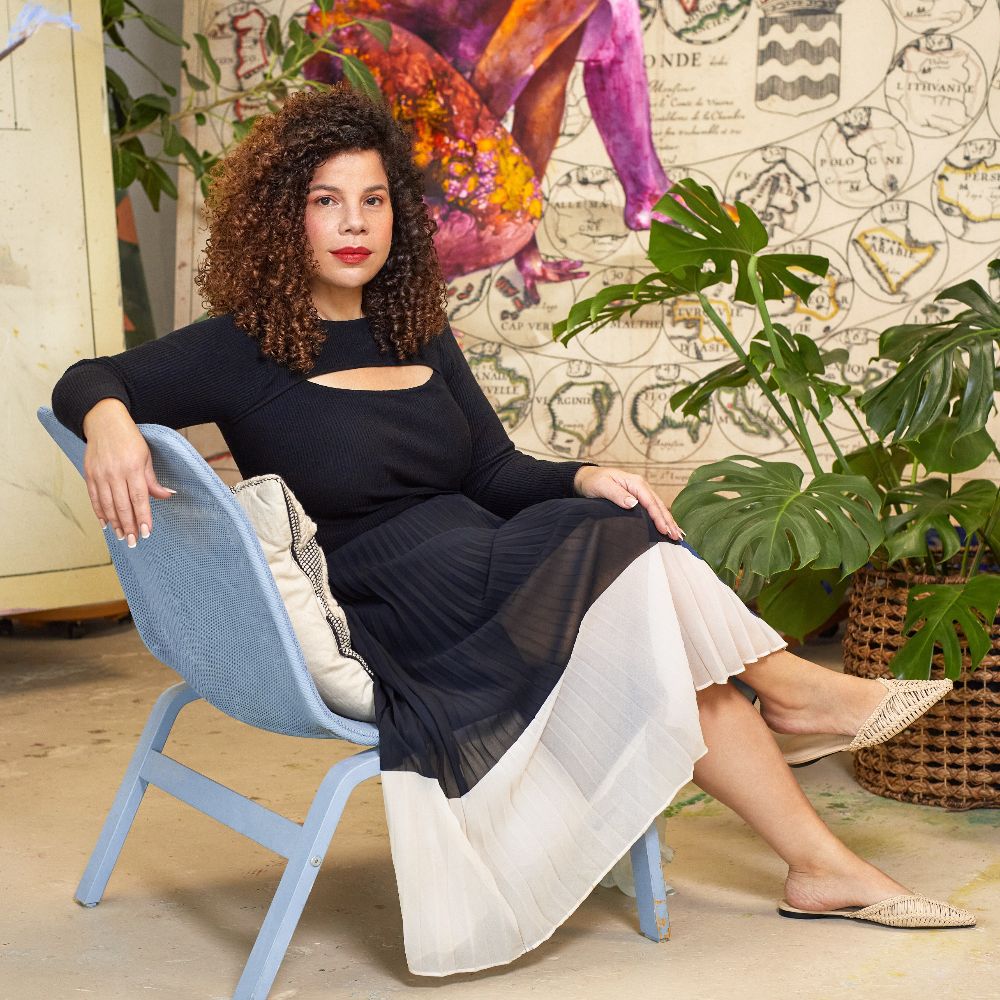 Hauser & Wirth announce global representation of Firelei Báez
September 18, 2023
Hauser & Wirth today announces the global representation of New York–based artist Firelei Báez (b. 1981, Dominican Republic). Báez has achieved wide acclaim over the past decade for immersive paintings, installations and sculptures that explore diasporic histories against the backdrop of colonial narratives and conventional ways of seeing. A self-described bibliophile and voracious reader, Báez has been likened to a historian, mining the foundational and forgotten archives of the Americas and beyond in order to challenge and expand the ways in which we perceive and relate to one another. Her constructions are marked by erudition and an intimate physicality that gives way to vibrant abstraction and exquisite detail. Though richly layered in cultural and historical references, her practice is equally rooted in a palpable connection to the human body—her own and that of the viewer. Báez's sensitivity to the conditions within which she creates extends to the physical experience of looking at her work. The visceral abstractions, multisensory approach and arresting beauty of her art capture the viewer on a deep intuitive level before conceptual understanding coalesces, catalyzing a sensory reorientation where new ways of perceiving and imagining become possible.
"Firelei takes on history and transforms it into poetry—visual, visceral, technically inventive, breathtaking works of art that go beyond merely telling us something, to fully enveloping and implicating us. By consistently reasserting the importance of the Caribbean in the wider context of world history and revealing the pervasive presence and impact of Caribbean and Black cultures that have been previously obscured, her art demands we become more astute world citizens. In her courage and sheer virtuosity, Firelei aligns perfectly with so many pathbreaking artists in our gallery's program. We're thrilled and honored to welcome her to Hauser & Wirth and look forward to all that lies ahead in our collaboration." - Marc Payot, President, Hauser & Wirth
Firelei Báez was born in Santiago de los Caballeros, a city bordering Haiti in the Dominican Republic, in 1981. Informed by having a Dominican mother and father of Haitian descent, Báez's early sense of place and belonging deepened once she relocated to Miami, Florida at the age of eight years old. From a very young age, art had become an essential source of expression for Báez, as did reading and maintaining a collection of books. Instinctively aware that formal historical categories limit imagination, perception and identity, Báez has since used her art to explore what she calls 'the freedom of decategorization.' Consistently pushing the boundaries of established knowledge, Báez combines the rigor of a historical researcher with the worldmaking capacity of a storyteller. Mythology is an important tool for Báez, 'a way of correcting the past and projecting a different future.' A generative and recurring figure in her work is the 'ciguapa,' a mythic femme creature from Dominican folklore known for her trickery and elusiveness. A multidirectional being characterized by mutability, the ciguapa has feet that point in opposite directions, an attribute that allows her to never be traced. Growing up in the Dominican Republic, Báez heard ciguapa stories intended as cautionary tales against unvirtuous and wild behavior. As someone deeply curious about both 'the risks and...gains of belonging and not belonging,' she has held onto her fascination with this mythological being and to the trickster, an archetype that, as curator Julie Crooks has noted, takes on a political valence in Báez's work as a means or pathway to new freedoms.
In her largescale paintings, Báez takes on disavowed histories, often beginning a work by pouring paint over the surface of an enlarged reproduction of an archival document. The shape her pour takes and the way in which it spreads within a particular environment guides the artist's initial interaction with the foundational artifact, connecting it to her body, time and space. Báez describes the temporal dimension of this pouring process as follows: 'There's the tilt of the floor, the humidity level, what I could physically reach. These are very specific limitations that become like archaeological time capsules.' Her pours and other visual interventions allow the contemporary to come into contact with a distant past that still profoundly shapes our language and perception. Through these encounters, Báez opens the doors to a clearer understanding not only of the past's horrors, but also the enduring persistence of beauty, resistance, and healing.
Báez proposes through her art that we actively participate in the making of history to imagine different futures. She has said, 'Making connections between seemingly disparate ways of working and histories is one of the best parts of being a visual artist. This often necessitates seeing history not as a linear process, but rather a series of repeating or overlapping patterns.' By destabilizing historical narratives, Báez allows for a different kind of historical measure, one which embodies the intricate entanglement of opposing forces. Her work is corrective; it makes space for the stories and people who have been erased or excluded from dominant narratives.
photo: Amilcar Navarro