Bo Young Song is the Managing Director of Kukje Gallery in Seoul, Korea and oversees the gallery's projects and exhibition programme internationally. Kukje Gallery is renowned both for bringing international artists to Korea and for giving Korean artists exposure around the world. Bo Young Song studied at Paris Dauphine University and the Korea National University of the Arts, and is currently a committee member of Art Basel Hong Kong. Among many other things she is also working on the digitalisation of the Korean art Archive. She has chosen her "Ten to See" exhibitions selection exclusively for GalleriesNow.net.
---
1.
Giacometti
Tate Modern, London
Curated by Tate Modern's Director Frances Morris, this ambitious exhibition offers a rare occasion to see Giacometti's impressive oeuvre in one setting. A retrospective of this scale could be very flat, but Tate has managed to create a show that is emotionally charged.
read more
---
2.
Park Chan-kyong 2 or 3 Tigers
Haus der Kulturen der Welt, Berlin
Curated by Anselm Franke and Hyunjin Kim, this exhibition examines the shifting cosmologies of East Asia throughout the 20th century. Park Chan-kyong's work in particular reflects upon suppression, militarization, and exploitation in Cold War era Japan and Korea - histories which haunt the geopolitics of the region to this day.
read more
Park Chan-kyong Highlights
SeMA, Seoul Museum of Art, Seoul

This particular exhibition showcases highlights from the Cartier collection to an audience in Seoul. Because of the working relationships we have with many of the artists in the collection, for me the show has a personal layer of meaning. Park Chan-kyong, together with his brother and film director Park Chan-wook, have collaborated on a new project which explores the politically charged site of JSA (Joint Security Area) between South and North Korea.
read more
---
3.
Alexander Calder / David Smith
Hauser & Wirth, Zürich
Both Alexander Calder and David Smith were artistic pioneers who have continuously challenged the boundaries of sculpture as a traditional genre. It is interesting to see the two master's works closely intertwined and giving artistic inspiration to one another.
read more
---
4.
Haegue Yang VIP's Union
Kunsthaus Graz, Graz
Reflecting Haegue's language of humor and satire, Kunsthaus Graz creates a reincarnation of her work previously shown at her major solo show at Leeum Samsung Museum of Art in Seoul. This time the project involves furniture lent by "Very Important People" of Graz. It would be interesting to compare the version from Seoul to this new rendition.
read more
---
5.
Kimsooja INTUITION
Palazzo Fortuny, Venice
This exhibition, coinciding with the 57th edition of La Biennale di Venezia, is important because it stages the European premier of Kimsooja's performative installation Archive of Mind (2016), which was first showcased in Korea for the artist's solo exhibition at the National Museum of Modern and Contemporary Art. Featuring historically relevant artists such as Jean-Michel Basquiat and Chung Chang-Sup to contemporary masters including Anish Kapoor and Marina Abramovic, this exhibition highlights how these artists have utilised intuition and instinct through the ages.
---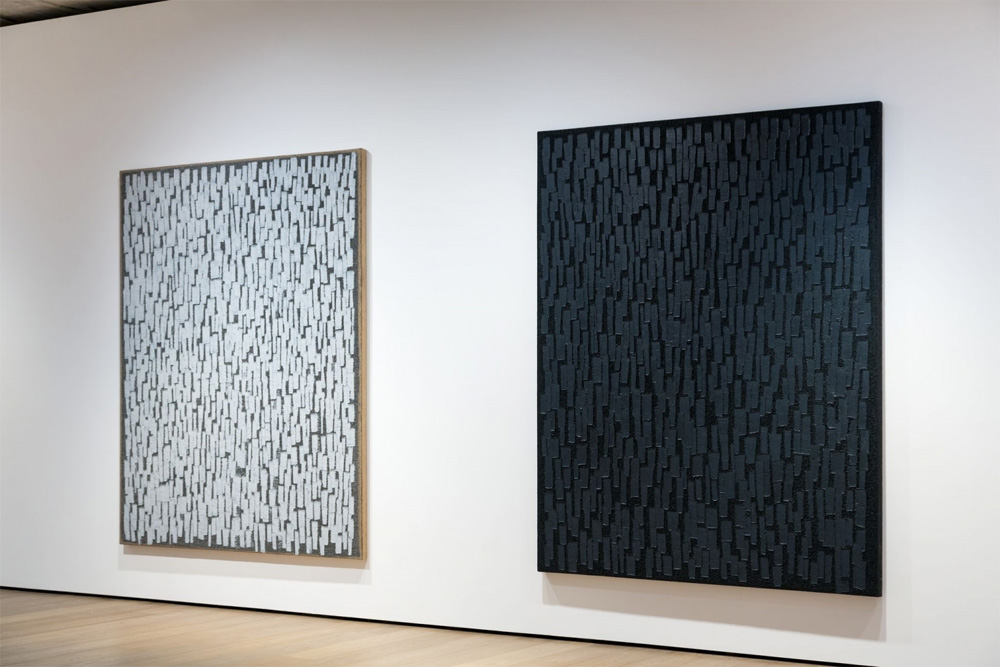 6.
Ha Chong-Hyun
Almine Rech Gallery, London
As Ha Chong-Hyun's first show at Almine Rech Gallery, this presentation is a comprehensive survey on Conjunctions, the artist's lifelong series of paintings that he began in 1974 as one of the first generation of Korean artists working in the post-war cultural milieu.
---
7.
Bill Viola
Deichtorhallen, Hamburg
Bill Viola, with his well versed cinematic technology onto the core ideas of life, death and spirituality, explores a site specific installation at the hall for contemporary art marking Deichtorhallen's 500th anniversary of the reformation. Contemplating on the sublime sound and scenes, one can experience the fear of disappearance with breathless attention. A powerful video installation, The Raft (2004) is also currently on view at the Kassel documenta 14 while his retrospective show will take place at the Guggenheim Museum, Bilbao, 30th June 2017.
read more
---
8.
Kyungah Ham
carlier | gebauer, Berlin
Kyungah Ham's first solo show in Germany is an exhibition of her signature embroidery painting series. The artist is both domestically and internationally renowned for investigating political issues facing contemporary Korean society, while the exhibited series engages the subjects of nationhood and identity, framing larger questions of social value and progress with poetic works of great beauty.
read more
---
9.
The Becher Class Photographs Become Pictures. The Becher Class
The Städel Museum, Frankfurt am Main
Ambitious in scale, the show observes the enduring legacy of the Becher Class at the Düsseldorf Art Academy and its influence on the future generations of German photography and visual culture in general. Candida Höfer, who has an upcoming solo exhibition at our gallery next year, is also part of this living legacy.
read more
---
10.
Yvon Lambert collection From Christo to Kiefer
Kunstmuseum Pablo Picasso, Münster
Yvon Lambert is renowned for his eclectic, highly sophisticated collection from more than four decades of collecting. One can almost chart the history of art from mid-20th century by examining the works in his collection.
read more