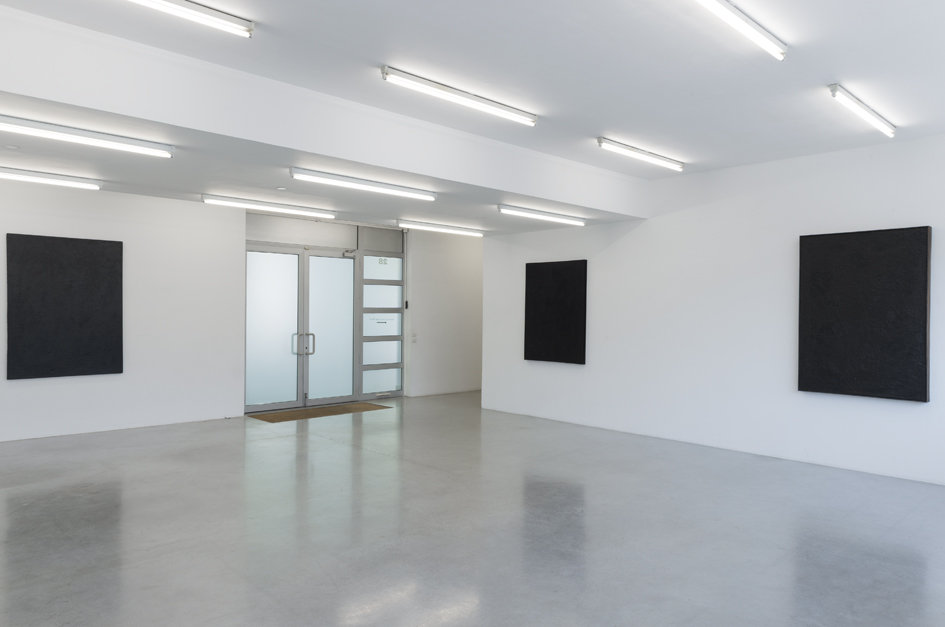 Wally Hedrick (1928-2003) is an activist American artist. Key figure in the first important public manifestation of the Beat Generation, he is co-founder of Six Gallery, San Francisco, where took place the reading «Six poets at Six Gallery» on which occasion the audience discovered for the first time Allen Ginsberg and his poem «Howl». Veteran of the Korean War, he is above the first artists that publicly denounced American interference in Southeast Asia. He taught for over ten years at San Francisco Art Institute, and was an important voice of political activism. He stopped teaching for two semesters, hanging a large black sign that read "Classes cancelled until the end of the war". From the 1950s, he painted his first american flags on which were written «Burn Me!», «Peace» (proper anti-US manifests preceding the flags of Jasper Johns). In 1957, he started the series «Black Paintings», which continued until his death in 2003. For this purpose, he covers his own paintings – according to rumours, those of others as well – with black monochromes, applying several layers corresponding to successive wars: Vietnam (1955-1975), Gulf War (1990-1991), Iraq (2002- 2011). The performative gesture taking precedence and covering an original motif, a monochrome repentance. Sign of mourning for a freedom of mined creation, a solitary manifestation of solidarity. According to his own words: «Since there is no way for me to affect any political decision, what I'll do is I'll deny Western Culture my contribution.» (2)
Air de Paris is delighted to exhibit this oeuvre in France for the first time. On that occasion five canvases will be presented, whose titles disclose a creaking sense of humour: «Black Bush Burning», «Vietnam Series XXI Old Generals Never Die, They Just Send Young People To Their Death». In dialogue, will also be presented a tribute by Allen Ruppersberg in the window.
Wally Hedrick's were part of Paul McCarthy's «Low Life Slow Life» at the Wattis Institute for Contemporary Art, San Francisco, in 2008, as well as « Beat Culture and the New America, 1950- 1965» at Whitney Museum of American Art in 1995. They are part of prestigious public collections such as New York Museum of Modern Art, the San Francisco Museum of Modern Art and the Young Museum.
—-
-2. Marcus, Greil. "The Incredible Disappearing Act" San Francisco Focus, October 1991. Wally Hedrick The Absence of Light: Black Paintings (1957-2003), 30 Avril – 11 Juin, 2016, The Box, LA
© Photo Marc Domage. Courtesy of Air de Paris, Paris