SpazioA presents rough-cast, a solo exhibition of the artist Matthew Peers (1991, Manchester) at the gallery's project space.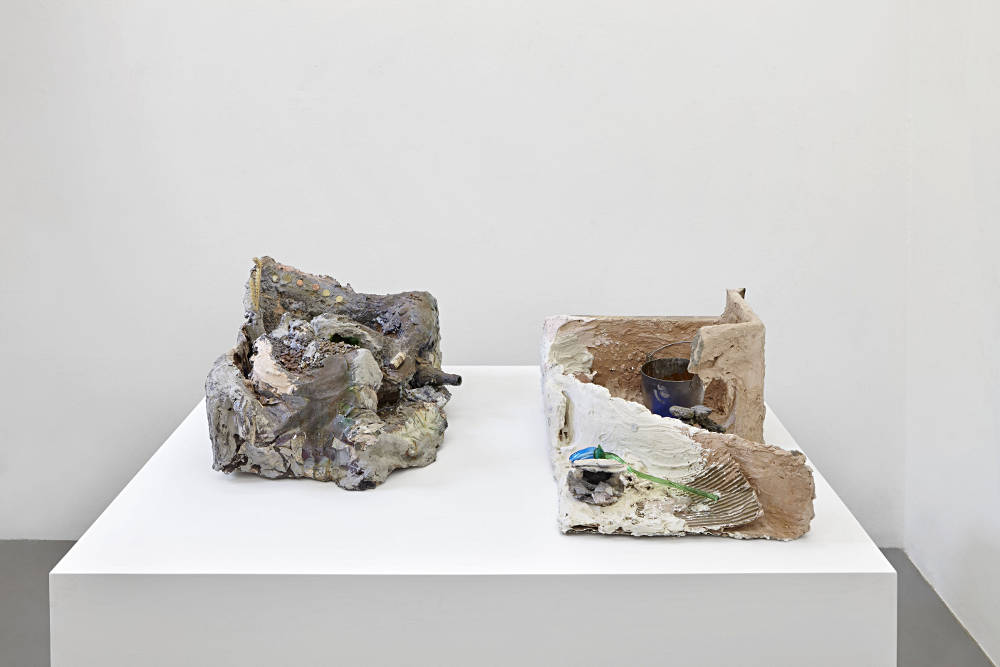 spring vitrines
I.
the maddona's leather belt was split in a tug of war
when one town pulled on the buckle, and the next town
pulled where the buckle af xes. a hundred thousand hands gripped a length and attempted to feed it, curl it neatly,
into their own armour-plated reliquary. as one side gained ground, the holy relic collected, as the other found its strength
it unfurled like a salt-tipped cow's tongue, so that
her waist, by all accounts, was over thirteen miles long
II.
unopened daffodils, marsh irises, mugwort
and tumbling grasses clipped from the marsh's verges arrangements in grandmother's best glasses
there's a life time of bad luck for those
that slip tiny jewels into their back pockets
like mosaic glinting green under valuable dust
so send it express back to pompeii, address:
pompeii, vesuvius, italy and hope that you stop
tripping over edges, and grazing your knees
III.
through the restaurant window the mountain
has been rearranged like partially scrambled Rubic's cubes
so that the peak appears at the centre of the scene
stains of hot mist from our food have occluded it further
and you have attempted to trace its true location
in the heavy condensation, in the grey cloudbanks I see
your eyebrows and think they are two confused eagles
Oscar Gaynor
Matthew Peers (born in 1991, manchester). Graduated from Slade School of Fine Art, London 2010-2014.
Recent solo exhibitions include: Be-ThenChinge at GAO Gallery, London (2018); Fish and Shrine Sculptures, Troy Town Art Pottery, London (2017); A Paper Coffee Cup Thinking Of A Cigarette, Fat Relic, London (2017). Selected group exhibition include: Let's See Where Were We? In The Pit Of Despair, De Ateliers, Amsterdam (2017); That Continuos Thing, Artists and the Ceramics Studio, 1920 – Today, Tate St. Ives, St. Ives (2016); LOOKING AT PEOPLE LOOKING AT ART, curated by mark Essen, The Division of Labour, London (2015); The March Project, Sharjah Art Foundation, UAE (2016); The Cerebus Syndrome, The Laughing bell, London (2015); Potteries Thinkbelt, Rob Tufnell (2015); The Rare Earth Medicine Show, Troy Town Art Pottery, London (2014); Slade Degree Show, Slade School of Art, London (2014); Workhouse, The Elephants Head, London (2013). Online: THING 004 : TERRAIN, http://formiv.com, ongoing. The artist lives and works in London.
Courtesy of the artist and SpazioA, Pistoia
Courtesy of the artist and SpazioA, Pistoia