Koenraad Dedobbeleer: There Is No Real Life, Only the Story of the Life We Are Currently Living at ProjecteSD, Barcelona, from February 13 to April 4, 2015

Koenraad Dedobbeleer's work uncovers the surprising in the familiar. His objects, sculptures and photographs are the result of his very subjective contemplation of the urban and architectural fabric of our daily environment. The artist creates variations of found objects, motifs and details by submitting them to small alterations: slightly changing their scale, modifying their colour, substituting the material from which they are made with another and, in every instance, transforming them into sculptures to be viewed in exhibition spaces. Another significant aspect of Dedobbeleer's approach is the artistic tradition of the avant-garde to which he often refers in his distortion of the familiar.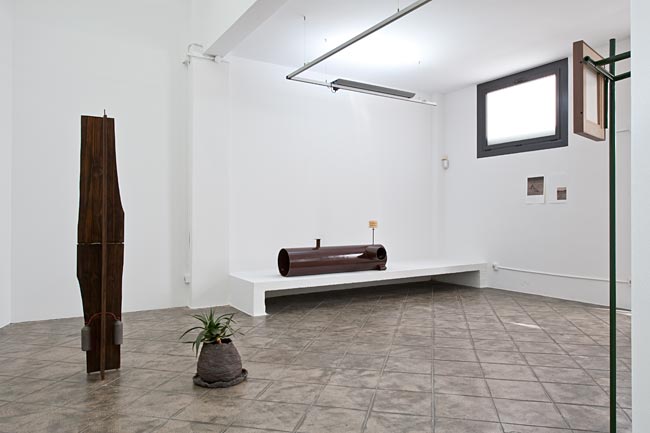 Dedobbeleer's works are not linked to a certain location or context, they have been very clearly imagined, first and foremost, for their consubstantial formal qualities as sculptures. Yet, it is at the moment of their installation in the gallery – in the way they are positioned and adjusted in relation to a specific site and within a particular constellation of objects – that his objects become articulate as they delimit, define and enrich the location and what occupies its relationships and possible significances.

For his third exhibition at ProjecteSD, Dedobbeleer brings together a constellation of recent sculptural works. Replicas of design classics and multiple references to art works, books, and images are displayed in the gallery exhibition space. Some sculptures are inserted in the gallery working office area, as if they were everyday use objects. In some cases, ensembles or small installation setups, where one work intersects with another, are proposed by the artist. The two channel slide projection, The Rules of Solid Matter Do Not Entirely Apply, finds its own place in a room-like arrangement created by a separating wood- screen, The Man as Autist and Other Successes, two benches, It Is Merely a Reflection of a Thing That Questions 1 and 2, and a sculpture made of a metal stick holding a candle, entitled The Meaningless of Things Makes Me Smile Complacently. Notions such as sculpture and display, functionality and aesthetic value, work and document become apparent as we go through the exhibition. An intentional repetition of forms and elements is also found in the show. Some works or part of them seem to be doubled. This idea of the "double" seems in a way to be the connecting link in the whole exhibition. As it is the case in the piece Something That Exists in One Region but Hangs into Another One where the three postcards reproducing details of the San Lorenzo cathedral façade in Genova, are used by Dedobbeleer to be presented as a two-dimensional diptych in one area of the gallery and as a sculptural object in the main exhibition room. The work Transforming Them into Analogies, is fully conceived with this idea of reproduction and repetition. Dedobbeleer presents here a very interesting selection of art books, catalogues or artist books of different authors and times, and all or some of their reprinted non-identical versions. The books are presented in a wooden sculptural shelf which also holds the new publication by Dedobbeleer, Doublures: Exhibited Catalogues, which compiles as an archive all these repeated titles, and invites the audience to dip into this singular library.

Through his formal and spatial inventiveness, in a striking combination of daily life utensils and art-making, Dedobbeleer composes both a tangible and abstract picture about the recent history and aesthetic possibilities of sculpture. There Is No Real Life, Only the Story of the Life We Are Currently Living should be experienced as a privileged walk into Koenraad Dedobbeleer's cosmos, into his work as an artist and at the same time into the references which nourish his artistic thinking.
Photography: © Roberto Ruiz. Courtesy of the artist and ProjecteSD, Barcelona