Jeff Olsson's third exhibition at the gallery, A Wobbly Aim, presents drawings made in the last year. In the center of the exhibition hangs a jacket filled with drawn image fragments that can be seen as a compound portrait, or a workers jacket for poets.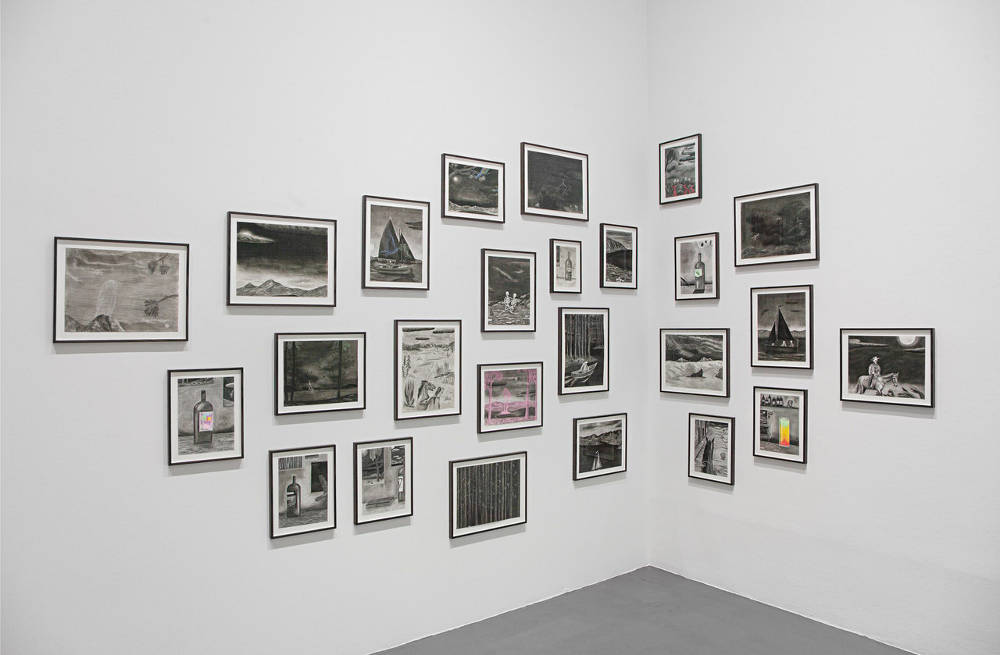 As a visitor, we recognize Jeff Olsson's characteristic dark imagery, but we can also see a distinct development in his artistry. The previously swarming scenes have now taken on a more scaled simplicity, and takes place before the actual event, or story, unfolds. His interest for fables and mythology remains, but there is also silent, desolate landscapes and staged still life. We enter a fateful darkness where existential issues meet willful humor and an alluring bias.
During the summer of 2017, Jeff Olsson had an artist residency at Hellvi Kännungs, which is Galleri Magnus Karlsson's project space in Gotland. The work was presented in an exhibition that received great attention, not the least the monumental drawing Like a Moth to the Flame that Jeff Olsson performed directly on the wall of the gallery.
Jeff Olsson comments the experience in an interview by Maria Molin in the journal Tecknaren:
"Something happens when you change environment and break the routines of your everyday life, something liberating. Inspiration for me is the energy that a place can give me. What I see as I walk down the paths in the woods and along the road here may not appear in my imagery, but it is present as fuel and awakens the imagination."
Back in his Gothenburg studio, an intense working period was initiated, which now forms the exhibition A Wobbly Aim. Jeff Olsson stubbornly continues to explore the possibilities of drawing with various kinds of charcoal and pastel on paper, now also with elements of color, although the actual working process has changed. He strives for greater transparency and allows himself to greater extent to calibrate the wobbly aim of the charcoal.
"As soon as a drawing is complete I hide it under a cupboard in my studio. In that way, I imagine that the drawing only exists during the actual making process. Previously, I have always had the finished drawings easily accessible, often hung along the walls in the studio. But now I don't want my eyes to get used to it. To fantasize about the pictures after they are finished has become a greater and more important part of the working process. During the fall and winter, a kind of newfound excitement has surrounded the drawing process, which has led me to draw more relaxed and longer without self-critical interruptions."
Jeff Olsson is born in 1981 in Kristinehamn, Sweden. He lives and works in Gothenburg and is educated at Valand Academy (2003–2008). Selected solo exhibitions: Hellvi Kännungs, Gotland, Sweden (2017), Passagen, Linköpings konsthall, Sweden (together with Joakim Ojanen), 2016, Galleri Magnus Karlsson, Stockholm, Sweden (2016, 2010, 2011), Market Art Fair , Stockholm, Sweden(2014), Krets, Malmö, Sweden (2014), Jack Hanley, New York, USA(2013), Galleri Thomassen, Gothenburg, Sweden (2009) and Galleri Big Love, Gothenburg, Sweden (2005). Selected group exhibitions: Gothenburg Museum of Art, Sweden (2015), Strandverket, Marstrand, Sweden (2015) Chart Art Fair, Copenhagen, Denmark (2014) Konsthallen–Bohusläns museum, Uddevalla, Sweden (2014), Frieze Art Fair, Jack Hanley Gallery, London, UK (2013), The Armory Show, New York, USA (2011, 2012), Garemijn Hall, Bruges, Belgium (2012), Needles and Pens, San Francisco, USA (2010), Liljevalchs Vårsalong, Stockholm, Sweden (2009), Göteborgs Konsthall, Gothenburg, Sweden (2008), Bonniers Konsthall, Stockholm, Sweden (2008) and Art Copenhagen, Denmark (2007).
Courtesy of the artist and Galleri Magnus Karlsson, Stockholm