Special Events:
*Live performances by Amelia Barratt and Minyoung Choi: Saturday 3 February, 17 February, Sunday 4 March and 18 March, 2.30pm & 3.30pm
Parasol unit foundation for contemporary art presents Lisa Milroy's first institutional solo exhibition in London. Here and There: Paintings by Lisa Milroy brings together a selection of Lisa Milroy's paintings from the past fifteen years, in which she explores her approach to still life through the lens of making, looking, touch and transformation.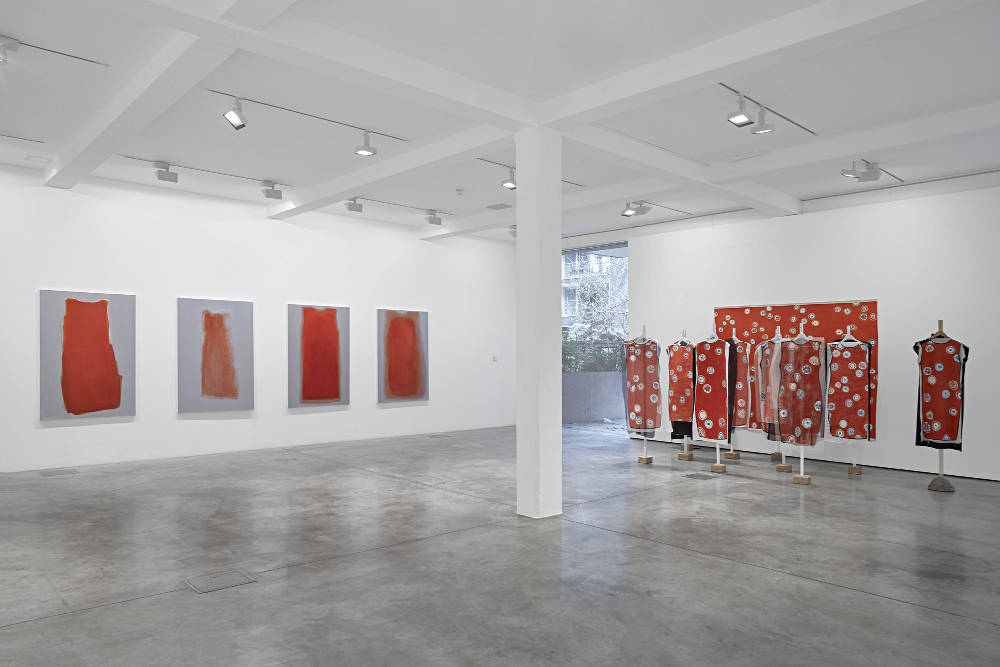 The term 'still life' itself signals fundamental experiences of painting for Milroy in her fascination with the relation between stillness and movement, contemplation and action. In the 1980s Milroy's paintings featured everyday objects depicted against an off-white ground, compositionally arranged in a grid or a random scatter and characterised by a quick gestural application of paint – her canvases took no more than a day to complete. In the 1990s, Milroy shifted from fast painting to a slower, more modulated approach. She began to paint objects within settings, which expanded her understanding of still life to embrace landscape, cityscape, architecture, portraiture and storytelling. During the 2000s, Milroy's sense of experimentation has led her to explore painting through installation and performance.
In Here and There: Paintings by Lisa Milroy, motifs of clothing and shoes lead the way, object categories that have defined her work since the 1980s. The single painting from this period included in the exhibition is Shoes, 1985, a touchstone work for Milroy, loaned from the Tate Collection. The exhibition explores themes that have been central to Milroy's practice: presence and absence, loss, time, memory and materiality, and features canvases, objects, installations and performances.
Curated by Ziba Ardalan, Founder/Director of Parasol unit, the exhibition is Lisa Milroy's first major solo exhibition in a public institution in London. It is accompanied by a tailored programme of educational events which build upon the performative element of Milroy's practice and deeply engage audiences.
The installation painting Party of One, 2013, includes a performative component which will be performed by Amelia Barratt and Minyoung Choi on the following dates during the exhibition at Parasol unit:
Saturday, 20 January – 10:30 am + 11:30 am
Saturday, 3 February – 2:30 pm + 3:30 pm
Saturday, 17 February – 2:30 pm + 3:30 pm
Sunday, 4 March – 2:30 pm + 3:30 pm
Sunday, 18 March – 2:30 pm + 3:30 pm
The duration of the performance is approximately 15 – 20 minutes, taking place within the painting installation and around the gallery.
Here & There: Paintings by Lisa Milroy, installation view at Parasol unit, London. Photography by Benjamin Westoby. Courtesy of Parasol unit foundation for contemporary art.