Halsey McKay presents East, Elise Ferguson's third solo exhibition with the gallery.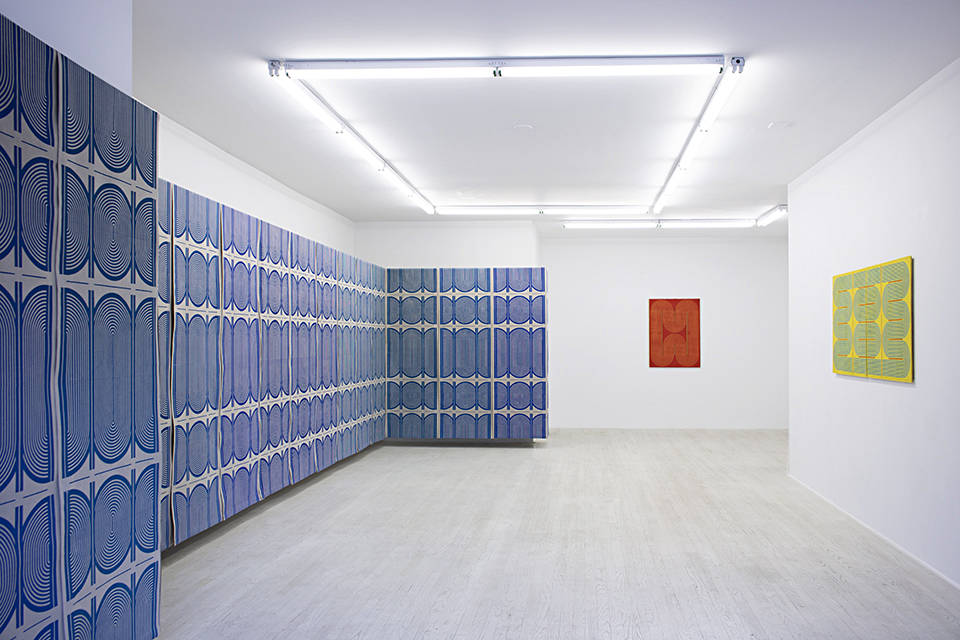 The show includes several new pigmented plaster paintings and a floor-to-ceiling installation, E. Cloudbank, that runs along the entire south-east side of the gallery. Having long employed printmaking techniques and references to textile design in her paintings, E. Cloudbank brings together several themes of Ferguson's oeuvre. Comprised of 18 Irish linen panels, the piece is hung on a rail that runs along the four gallery walls. Its crisp top edge and flowing body make the work something of a hybrid painting/curtain that folds in and out with the architecture.
Ferguson's paintings have embraced a digital yet hand-made quality for years and E. Cloudbank employs a similar strategy. For the project, Ferguson created a linoleum printing block carved by a CNC Router. The panels were each printed a different shade of blue, subject to the irregularities of block printing: slight off-register alignment and the erratic nature of the inking process. These distortions coupled with the warmth of the Irish linen further the work's lure.
Central to the show is color as communication – an associative, subjective relationship, based on a life- time of memories. While Ferguson is suspicious of the concept of abstract art as a universal language, occasionally her work hints at pictographic signs, logo-grams, alphabetic scripts, and cuneiform writing. Although Ferguson creates abstract images, they often begin to resemble something – creating illusionistic space or a composition that appears representational. This tendency is reflected in her titles as a means of embracing the associative nature of looking, thinking and naming.
Elise Ferguson lives and works in Brooklyn, NY. She has had recent solo exhibitions with 57 W 57, New York; Romer Young Gallery, San Francisco; White Columns, NY; and at Barton College, NC; and Illinois State University, IL. Her works have been included in exhibitions at Luhring Augustine, Team Gallery, Dieu Donne Papermill, The Sculpture Center, Andrew Kreps, CRG Gallery, Longhouse Projects, NY; Fourteen30 Contemporary, Portland; Norwich Galllery, England; Lothringer Dreizen, Munich; among others. She has been awarded several residencies including at MacDowell Colony, Socrates Sculpture Park, Dieu Donne Papermill, and was the 2014 winner of the EXPO Chicago Northern Trust Purchase Prize. Ferguson is represented by Halsey McKay Gallery and Romer Young Gallery.
Courtesy of the artist and Halsey McKay Gallery, East Hampton