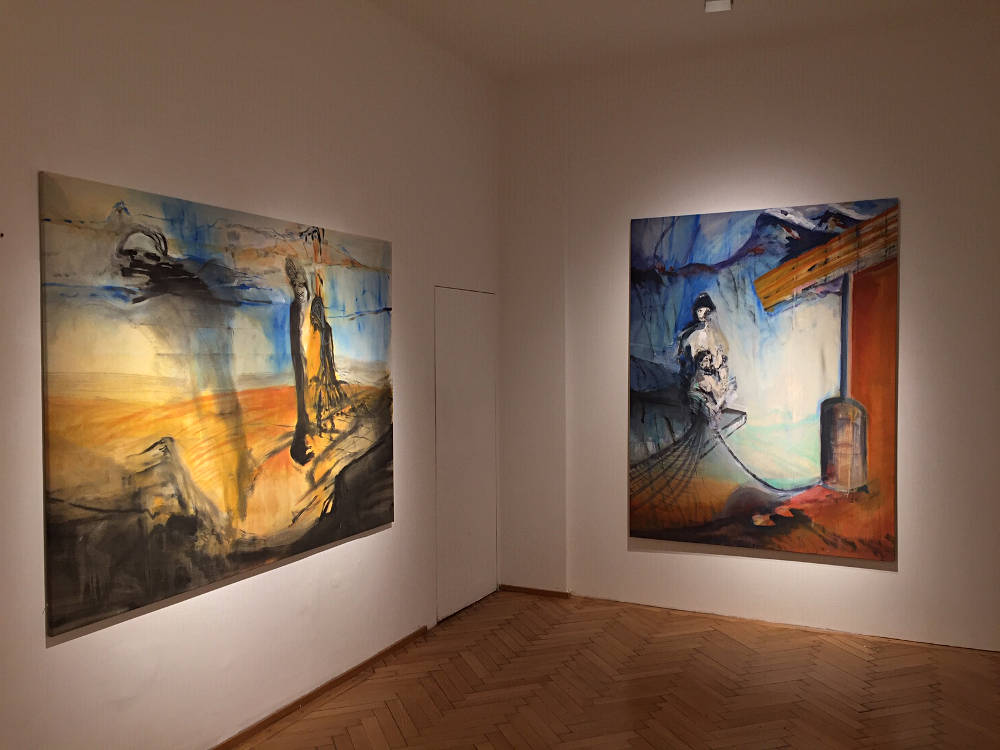 The new paintings by Clemens Kaletsch are unknown visual objects. They appear as their own evidence and at the same time are barely categorizable with respect to the contemporary discourse on painting. One thing, however, is clear: that person who has mastered these techniques of painting and applies them to create an intellectually laid out, finally improvised image, which lives from this resolve and breathes it, is someone equipped with proficiency and who warrants attention.
This type of painting is created exclusively from colour values, from the dialogue between chromatic values and the pictorial ground. In this respect, the paintings of Clemens Kaletsch are nearly without equal. Nor is it something that can be taught – as one of the few of his generation he never took up a teaching post – but merely acquired by working on canvasses. This is what distinguishes this oeuvre in its deliberately isolated progression. Therefore, it is also near impossible to get enough of these paintings once one has become sensitized to the magic of a pure interplay between half-tones and the whiteness of the picture plane, which in the work of Clemens Kaletsch invariably functions as an evenly matched co-player.
In a second regard, this painting practice carries out the reclamation of mythology. In the environment of the "Neue Wilde" (Neo-Expressionists), alongside whom Clemens Kaletsch found his first larger audiences slightly less than four decades ago while never part of the movement himself, the "recovery of myth" represented a major theme that soon turned out to be a one-way street. Developing a style of painting in which the great narrations, the mythologies in terms of classical antiquity reveal themselves again, in an unexpected manner, in unseen and unforeseen images, represents the second compelling aspect of this type of painting. It is painting that eschews any imitation of the screen reality of the present. Hence its own temporality.
A third aspect is the resolve that is expressed in the new paintings by Clemens Kaletsch. DEEP BREATHING is the title of the new series of works by the artist. "Antigone" by Sophocles, whose composition dates back 2500 years, plays a part in inspiring these paintings. Then again, DEEP BREATHING evidently means, above all, to exhale. Good paintings are always created swiftly, whether in the mind or on the canvas. Along with breath.
Robert Fleck (Professor at the academy of art Düsseldorf)
Courtesy of the artist and Galerie Ernst Hilger, Vienna