Maureen Paley presents a new exhibition at the gallery by Alastair Mackinven and Behrang Karimi.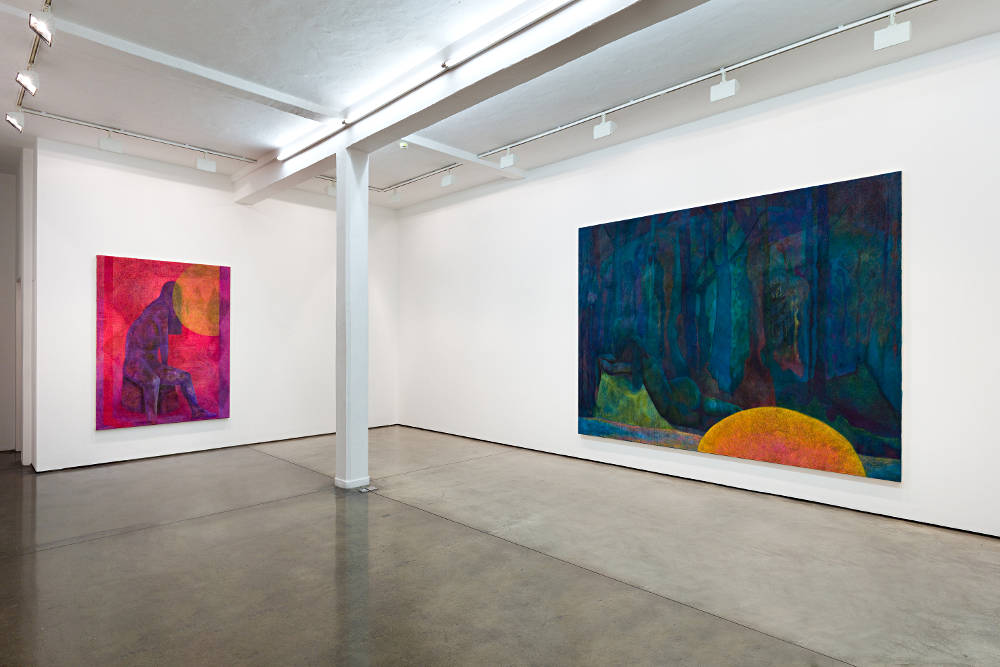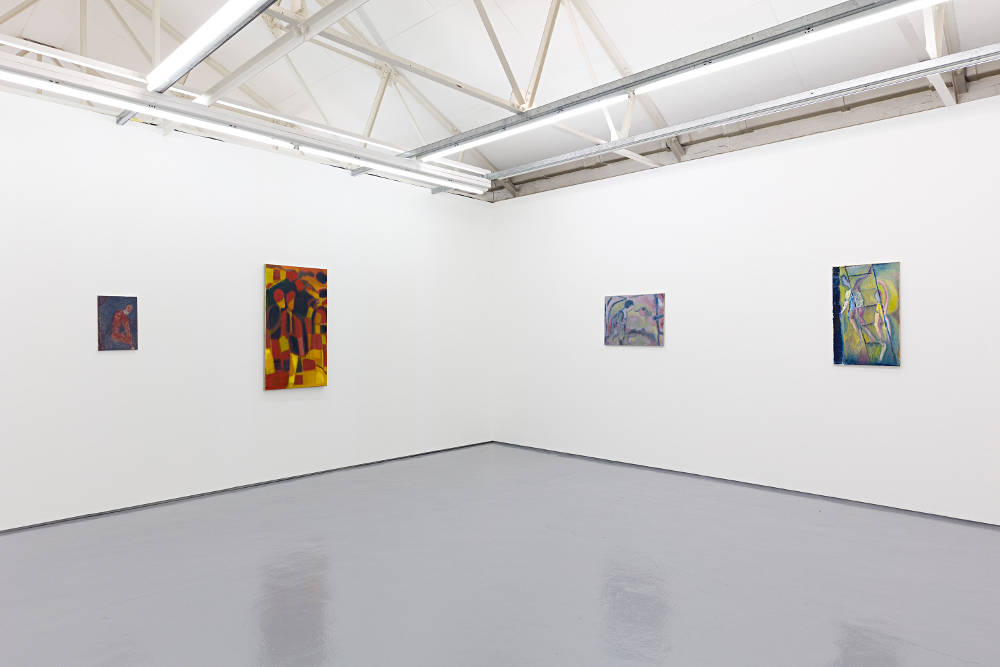 A.M.
big blue green….. a negative construction, not the attributing of an image to surface.
red pink and purple….. from the comedian the audience wants new material, from the touring band the audience wants old material and from the artist…
fire…… part of this was painted in a damp warehouse, industrial ghosts are making Spectres redundant. M.E.S. said this.
two heads in blue green…. It is undecided which will hang.
B.K. (song)
1. for all women and dancers, hug me leave me need me
2. daily operation, shy and elegant is a force
3. greetings to the editors of control
4. slow motion natural numbers of raindrops
5. backward things you see from behind
6. all your pleasures choke inside the throat when you stop loving light
7. promises for a better wall
8. top 10 for ever yeah
9. grow
10. (outro)
Alastair Mackinven (b. 1971 in Clatterbridge, UK) currently lives and works in London, UK. Recent solo exhibitions include Reading Community Outreach Mural Work Shop, Taylor Macklin, Zurich, Switzerland, 2018; Not Liver Again Said the Eagle To Prometheus, TRAMPS, London, UK; Reena Spaulings, New York, 2017; A.J.R.M. Is My Slave Name, Peles Empire, London, UK, 2013; Assault on Lismore Castle's Fourth Wall, Lismore Castle Arts, Lismore, Ireland, New Wave of British Heavy Painting, City of London Art, London, UK, 2012; Performances 2006 to 2009, Focal Point Gallery, Southend-on-Sea, UK (C), 2009 and 0-60, Et Sic in Infinitum, ICA, London, UK, 2008. Recent group exhibitions include C.R. McBerny, touring exhibition, Manchester Central Library, Manchester, UK and Zwinglisalon, Berlin Germany, 2018; Odds, Assembly Point Studios, London, UK, 2017 and Thinking Outside the Box: the Museum Haus Konstruktiv Collection (1986-2016), Museum Haus Konstruktiv, Zurich, Switzerland (C), 2016. Lecturer at Slade School of Fine Art, UCL.
Behrang Karimi (b. 1980 in Schiraz, Iran) currently lives and works in Cologne and Düsseldorf. Recent solo exhibitions include Femdom, Pantaleonsmühlengasse/ Part1, Cologne, Germany, 2016 and Arbeiten aus dem Hinterkopf, AF Projects, London, 2014. Recent group exhibitions include Here,Here.., curated by Tenzing Barshee, Braunsfelder Family Collection, Cologne, Germany, Salon des Amateurs, TRAMPS, London, 2018; Eggy and Seedy, curated by Matt Copson and Alastair Mackinven and Reading International Festival, Reading, UK, 2017.
© Alastair Mackinven & Behrang Karimi, courtesy Maureen Paley, London