Halsey McKay presents Threshold, Augustus Nazzaro's second solo exhibition with the gallery. Nazarro's meticulous acrylic paintings on wood panel utilize representational imagery to various degrees of clarity and favor cognitive recall over visual reproduction. The panoramic installation of works, made between 2015 and the present, creates a filmic vignette of moments ripe with both familiarity and mystery.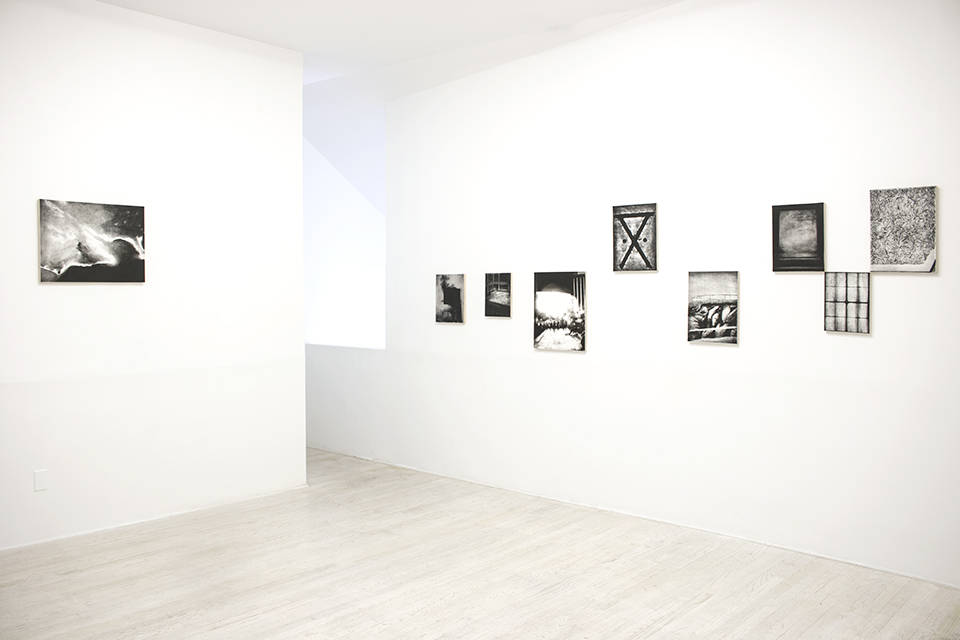 Each painting acts as a selection lifted from a larger timeline that offers visual cues to events of protest, war, tragedy, subculture and clandestine environments. Interpretation and translation play key roles in each painting's progression and execution. Reference material is pulled from found video stills, photographs, internet imagery and media. Each source image, newsworthy, obscure, or personal, is addressed uniformly, stripped of all color and rendered in acrylic. The painted image is systematically erased and rebuilt through sanding, polishing and repainting of the surface. The finished works echo the filmic grain of early photographs, surveillance video, or the stippled pattern of Xerox printed imagery.
The title of the exhibition alludes to Nazzaro's approach (how far something can be erased until lost or distorted into something entirely new) and the sociopolitical tipping point of today's America. By arranging the works in a linear sequence, the overall narrative is read and interpreted through the relationship to each work in succession rather than singularly. These paintings act as ghostly reminders of events passed and force the viewer to call upon their own personal memories to activate them.
Augustus Nazzaro (b. born 1984, East Islip, NY, USA) lives works in Queens, NY. Nazzaro holds both a BFA and MFA from the School of Visual Arts, NY. His work has been exhibited internationally in group shows including Converter, Halsey McKay Gallery, East Hampton, NY; Moscow Biennial, Moscow, RU; Trust Issues, Ronchini Gallery, London, UK; Search for the Real, De Buck Gallery, New York, NY; Ghost Current, V1 Gallery, Copenhagen, DK; For the Time Being, Koki Arts, Tokyo, JP; Marquee Moon, Thierry Goldberg Gallery, New York, NY. A monograph was printed by Harper's Books documenting his solo exhibition, In Pursuit of Shadows, at Halsey McKay Gallery.
Courtesy of the artist and Halsey McKay Gallery, New York